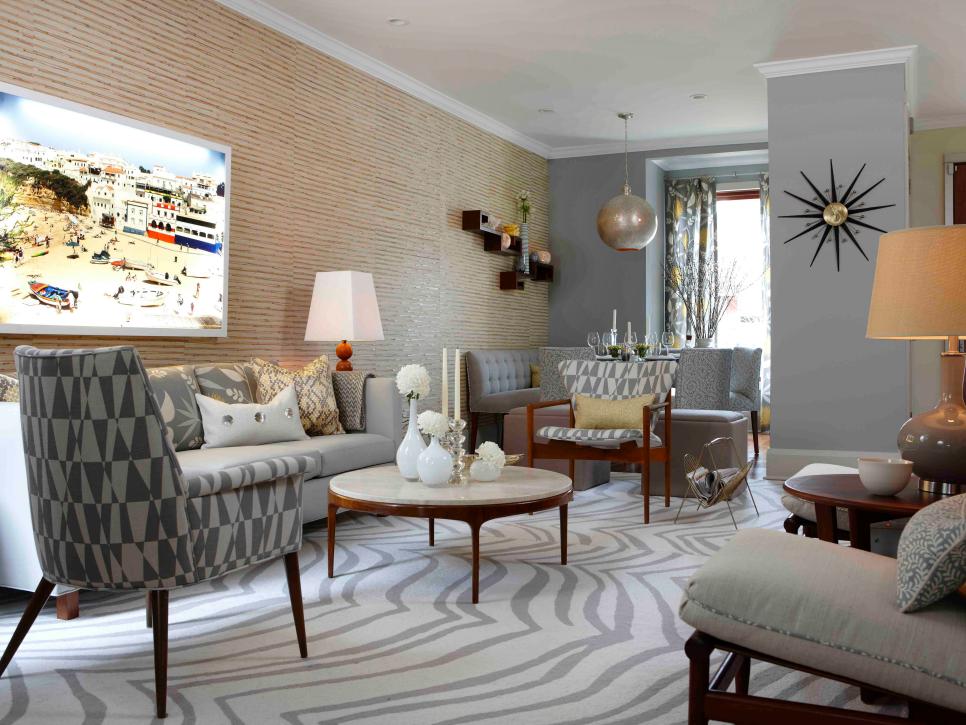 08 Aug

3 Design Styles For Decorating Your Ranch Home
Mid Century Modern
Decorating a ranch style home can be difficult , and deciding on the style you want to showcase can be challenging with so many different, unique designs out there. Even more difficult is being able to put your ideas into action.
Never fear. Here are 6 ways to transform your home into the ranch you have always dreamed about.
The Mid Century Modern look is making a huge comeback. The design will fit the style of the ranch house very well, because they both originated in the same time period. The look usually incorporates a variety of patterns and textures, as well as wallpaper, which is also making a huge comeback.
Furniture is a very important aspect of the Mid Century Modern look, as it usually has a very specific feel which can lead someone to immediately identify the style of home. The style tends to showcase wood pieces with clean, simple lines. Most of the sofa and chair legs are made of sleek wood, which allows the furniture to be a focal point of the design.
The Mid Century Modern look wouldn't be complete without a retro feel to it. By finding a piece of vintage style furniture, your room can be transformed. Look for pieces of furniture with wooden legs and fabric with a pattern. If you can't find a piece of vintage furniture, vintage art or accessories can help accomplish the Mid Century Modern look.
Craftsman
A Craftsman style home was built with function over form in mind. There are no competing design elements between the Craftsman style home and a typical ranch, which makes this design easy to execute. While your home might not have that typical Craftsman style look with open porches, overhanging beams and rafters, you can easily bring some of the Craftsman style inside your home.
The interiors of Craftsman style homes generally contain hardwood floors and the kitchens and bathrooms usually have ceramic tiles or stone floors. They contain wood moldings and trim throughout the house, especially around the windows and doorways. The furniture is typically wood based made from oak with strong grain shown on the wood.
Built in cabinetry and seating are signature trademarks of a craftsman style home, and creating a nice reading ledge under a window, can provide an easy touch of craftsman style to your home. Also, consider decorating the reading nook with a neutral colored cushion and patterned throw pillows.
Farmhouse
While you may not live in the country, the design of a typical farmhouse might be appealing to you. The good news is that you don't have to live on a farm to achieve this style in your home. Early farmhouses in America were popping up around the 1930s and were simply built homes with large porches and were located on a farm.
Again, while the exterior of your home might not have the characteristics of a traditional farmhouse, you can easily transform the interior of your home into one.
The signature look of any farmhouse kitchen is the farmhouse sink, also known as an apron sink, an oversized and extremely deep sink with no cabinets in the front.
Kitchens often have white cabinets as well, and every farmhouse needs a farmhouse table. A farmhouse table is characterized by the large size of the table and the wooden material that is used. It's meant to fit large families and can be a great piece to add to your dining room or kitchen.
Interior barn doors can really showcase the farmhouse style that you're attempting to achieve. You can put a barn door on a hinge and use it as an entrance door from the outside, or put it on a slider to separate rooms and add character inside your home. Either way, you are sure to attract the farmhouse look when you use these doors.
There are many accessories that you can add to decorate your ranch home. The use of mason jars, ladder displays, chalkboards, rustic signs and wooden accessories are easy items to use.