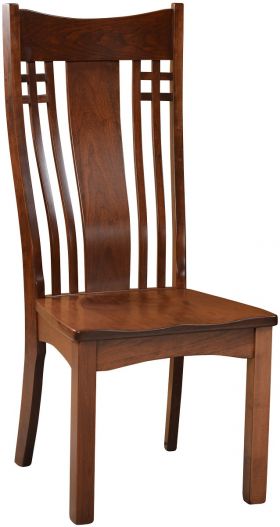 08 Aug

7 Things To Measure Before Buying Dining Chair
Dining Table Chairs: What to Measure and Why
After you have selected the dining table for your home or restaurant, you will want to buy dining table chairs. Below are blackline Woodworks list of things to measure before you choose.
1. The height of the people you will be serving.
A tall back chair, like the Mecklenburg above, is best for average to tall diners. Most dining chairs range in height from 36-42″ in overall height with a distance from floor to seat of 17 1/2-19″. Chairs that vary from this "typical" height may be uncomfortable for children or people of very small stature. If your diners are of smaller stature, you may wish to choose one of our petite dining chairs.
2. The number of people you are likely to serve.
If you are going to have only four diners seated at a round table, all four could sit comfortably in arm chairs. If, however, you are looking for a leg table to expand and seat 10-12 adults, arm chairs are likely only usable at the ends. Even then, this only works if it is not necessary to seat two people at each end.
3. The length of time you spend around your dining room table.
If, however, family dinners extend beyond an hour, it may be wise to consider a fully upholstered chair or an upholstered seat. Most of our kitchen and dining chairs offer the option of both fabric or leather seats.
4. The distance between the floor and the apron of your dining room table.
The floor to apron clearance is 26″. This means that arm chairs will be able to push underneath without scarring the arms. If your floor to apron clearance is less than 25″, arm chairs are likely not a good option. FYI: If the floor to apron clearance is not given, you can assume the table top is 30″ from the floor. If the apron length is given, add 1″ (or the table top thickness) and subtract from 30″ to get your clearance measurement.
5.The size of the room in which your table and chairs will be placed.
Dining rooms range in size from dramatic "halls" that are 10'W x 20'L to 12′ x 12′ squares that are barely defined. Your designer will tell you to avoid "over filling" the room. It is also important to make sure your table and chairs are complementary. They do not have to match, but they should go together. A heavy, thick table, will require more substantial dining chairs. It is also important to note the amount of space taken by other furnishings. In a large dining room space, you can choose freely. In a smaller room, you may need to carefully measure and be mindful of every inch.
6. Obstructions in your kitchen or dining room.
Chair rails, judge's paneling, and a number of structural obstructions may exist in your dining room. In a small dining room, for instance, it may be important to know if the top rail of the chair will fit below the chair rail or window ledge for the comfort of your family and friends. It is also important to consider the distance required to pull a chair out from a table when sitting or standing up from the table.
7. The age of the people you will likely be serving.
If there are children, choose your upholstery carefully. Making sure they are very durable and easy to clean, but they are not indestructible. The dining bench is a great option for children as they are versatile and can be used elsewhere if you choose to replace it as your children grow.
Also, if you have regular elderly guests, upholstered chairs, for comfort, with arms, for support, are important to consider. At least for a few of the chairs.