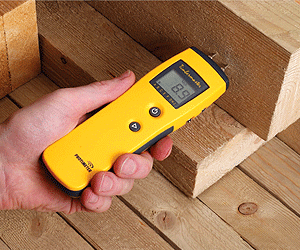 16 Aug

Know your wood's moisture content

When building with wood, you must know the correct moisture content of each piece of wood.

Too dry, and the finished product may swell or crack. Too moist, and the end product may shrink or warp. It's no wonder experts say incorrect moisture causes 80% of all woodworking problems.

Therefore, it's critical to know the moisture content of each piece of wood before it is used. For instance, if you're planning an inlay job using two different species of wood, you'll need to know the moisture content of each type so that your inlay glue joints stay intact.

A failsafe way to avoid a ruined project is to use a moisture meter.

Wagner Meters is one provider for both professionals and hobbyists a variety of highly accurate, professional-grade moisture meters.

Use a free wood moisture app

To help solve your moisture problems easily and quickly, Wagner offers you the FREE Wood H2O mobile app. This handy app calculates equilibrium moisture content (EMC), troubleshoots many common wood moisture problems, and accesses helpful resources Download your FREE mobile app here.