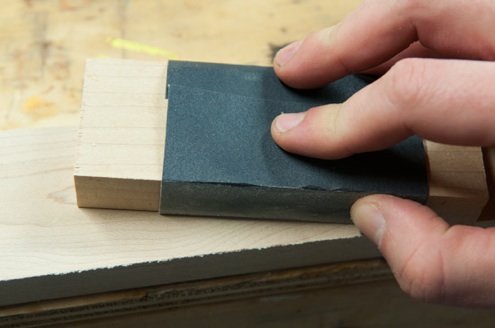 14 Aug

Sanding made easier

Sanding woodwork by hand may seem like a chore, but with special tools and high-quality sandpaper, you'll get excellent results that often outshine a power sander. Besides, it's quieter, doesn't produce clouds of dust, and may get into places power sanders can't.

Use a sanding block for faster, more efficient results. It distributes sanding pressure more evenly and maintains a flatter surface than merely folding a piece of sandpaper. Also, change sandpaper often.

Sand with the grain of the wood, especially for the final grits. To remove deep scratches and stains, angle across the grain up to about 45º for the first sanding. Before moving to the next finer grit, sand with the grain to remove all cross-grain scratches.

For sanding painted surfaces, buy clog-resistant sandpaper. The paint will build up slower than on standard sandpaper.